Web Site Design & Development.
After years of working with our clients on the design of their web pages, we know how to satisfy your need for a stylish, yet fast loading and easy to navigate website. We strive to create an exciting and enticing look based on your current brand, yet we always keep in mind the need to help your visitors find what they came for in the first place.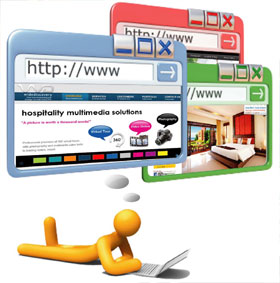 While having a pleasing and professional look to your site is important, there are other aspects of design that are even more crucial for your business.
Design:
Your websites interface must be stylish, yet simple to use. Remember that you only have only seconds to get the site visitors attention.
Search Engines:
We ensure that all your pages are customized according to latest technologies emphasizing page structure, keyword density and effective use of 'title' and 'description' tags.
Optional:
Comprehensive online marketing support! Sign up for any of our Support Levels and see your site traffic rise. Pending on the Support Level you choose (Support Level (1-3) we either submit your website to search engines on a daily, weekly or monthly schedule. Support Levels also include free domain registration and renewals, hosting and free site updates!
How do you start ?
Just contact us and our designers will review your business, your current artwork, literature, and advertising and create a look for your site that fits what you have already produced. If you are a new business or have not done a lot of look and feel "branding" work, we will help you determine the style that best reflects your capabilities as a business and the expectations of your clients.